Stephanie C. Buckley, CAP® | Head of Trust Philanthropic Services
Wells Fargo Wealth & Investment Management
Stephanie Buckley serves as the Head of Trust Philanthropic Services within the Wealth & Investment Management division at Wells Fargo. She leads a national team of specialized philanthropic advisors who help individuals and families work toward their unique philanthropic goals. They also assist nonprofit organizations with asset management and board governance as they pursue their tax-exempt missions. She is responsible for enhancing the bank's philanthropic offering to clients, helping her team deliver exceptional client service, and managing risk.
Prior to joining Wells Fargo, Ms. Buckley worked at Pepperdine University for over 10 years as an associate vice chancellor. There she worked with current and prospective donors to structure gifts in the most tax-efficient manner, including identifying and creating estate and financial planning tools specific to each donor's needs. She also raised major gifts, managed the law school's board of visitors, and taught as an adjunct faculty member. Ms. Buckley has worked in philanthropy for more than 22 years. Ms. Buckley is a member of the State Bar of California, on the editorial board for Planned Giving Today, a trustee for Heifer International Foundation, and a past president for both the Los Angeles Council for Charitable Gift Planners and the Planned Giving Council of Ventura County. She serves on the faculty of the American Institute for Philanthropic Studies and formerly taught at UCLA Extension.
---
Paul Caspersen, CFP®, MS, AEP | Founder, Planned Giving Interactive; Vice President, Charitable Solutions LLC
Paul is the founder of Planned Giving Interactive (PGI), a charitable planning software & consulting organization. PGI is an affiliate organization to Charitable Solutions LLC, the largest national consulting firm that provides charities with risk management solutions for non-cash donations and charitable gift annuities.
As a Certified Financial Planner, Paul has 26 years of financial, estate, and charitable planning experience. Between 2012-2022, he served as Assistant Vice President and Sr. Philanthropic Advisor at the University of Florida, where his Gift Planning team closed $1.25 billion in deferred gifts and outright gifts of complex assets. Prior to his position at the University of Florida, he led the Gift Planning program at Iowa State University. Before specializing in planned giving, Paul spent a decade working in financial services. He is also a national board member of The National Association of Estate Planners &
Councils (NAEPC).
---
Nathan Chappell, MBA, MNA, CFRE | Senior Vice President, DonorSearch; Co-Author of The Generosity Crisis: The Case for Radical Connection to Restore Humanity and Solve Our Biggest Challenge
As a thought leader, public speaker, author, and inventor, Nathan is one of the world's foremost experts on the intersection between Artificial Intelligence and philanthropy. Nathan serves as Senior Vice President of DonorSearch AI, where he leads AI deployments for some of the nation's largest nonprofit organizations. Nathan's subject matter expertise has been featured in several publications, including Fast Company, the University of Notre Dame, and the Association of Healthcare Philanthropy. In 2021, Nathan founded Fundraising.Ai as a member-centric collaboration of nonprofit professionals with a focus on data ethics, data equality, privacy and security, and sustainability.
Nathan presented the first TEDx on the topic of artificial intelligence and the future of generosity in 2018. Nathan is a member of the Forbes Technology Council and holds a Masters in Nonprofit Administration from University of Notre Dame, an MBA from University of Redlands, a certificate in International Economics from University of Cambridge and a certificate in Artificial Intelligence from MIT.
---
Joe Chickey, MBA, CFP® |  Senior Vice President and Senior Consultant, Sharpe Group
Joe Chickey brings more than 30 years of experience in the charitable arena, with a focus on gift planning to Sharpe Group. Based in Nashville, TN, he is a Senior Consultant and Senior Vice president. He has spoken locally, regionally and nationally on major and planned giving to estate planning councils, AFP, CASE and local CGP groups. His recent speaking engagements include the Chicago Council on Planned Giving, Colorado Summer Symposium, The Santa Fe Opera, Purdue University Development Day and The University of Texas Systems Philanthropy Day.  Joe recently completed a three-year term as a board member of the National Association of the Charitable Gift Planners (CGP). 
---
Brian Crimmins | CEO, Changing Our World, Inc.; Global Managing Partner, ONE HUNDRED Agency; Co-Author, The Generosity Crisis: The Case for Radical Connection to Restore Humanity and Solve Our Biggest Challenge
Brian Crimmins is a global leader in social impact, a popular public speaker on fundraising and philanthropy and Chief Executive Officer of Changing Our World, a trusted philanthropy and social impact consulting firm. Through service lines that include fundraising, corporate social engagement, research and analytics, and communications, Changing Our World raises billions in support of client causes, while counseling leading companies and brands to design and implement strategic corporate responsibility programs that deliver social impact while driving business strategy.
Brian is a frequent contributor to publications covering the sector and has been invited to speak around the world on topics touching corporate social responsibility, purpose, and social impact, emphasizing not just what mission-driven organizations can and should be doing in the nonprofit and CSR spaces, but how leaders might organize their inner and personal lives to expand the edges of their own potential. Brian also serves as a purpose leader within Changing Our World's parent company, Omnicom, helping it to understand the community impact of more than 200 agencies across its network and advancing its commitment to the SDGs. His expertise is tapped in service to some of the world's largest and most influential corporations as they define their core reason for being and translate theory into action.
In response to the uncertainty in the purpose and nonprofit spaces brought on by the COVID-19 pandemic, Brian launched and is host of the popular virtual conference series, Forging Forward, which hosts global leaders from organizations such as Unilever, Comic Relief, Memorial Sloan Kettering, Operation Smile, USAA, TD Ameritrade, United Nations Global Compact, the Environmental Defense Fund, World Food Program USA, Interbrand and General Motors, to name just a few. Forging Forward covers a wide range of topics— corporate social responsibility, philanthropy, healthcare, education, economics—but generally focuses on how nonprofits can win the competition for connection and how business and social impact strategies can and should be authentically aligned.
---
Hali Lee | Founding Partner, Radiant Strategies & Founder/Director, Asian Women Giving Circle
Hali Lee is delighted to have been co-builder of a few pieces of philanthropic infrastructure.  She is founding partner of Radiant Strategies. She co-founded the Donors of Color Network, was on the co-design team for Philanthropy Together, and is the founder of the Asian Women Giving Circle.  She is lead author of Philanthropy Always Sounds Like Someone Else: A Portrait of High Net-Worth Donors of Color, and is writing a book, The Big We, about how we, together, are much more powerful than the sum of our individual parts.
Hali was born in Seoul, South Korea, and grew up in Kansas City. She graduated from Princeton University, studied Buddhism at Mahidol University in Bangkok, Thailand, and received a master's in social work from New York University.  Hali lives in Brooklyn, NY along with her dear husband, three college-age children, two cats and a big dog. In her free time, Hali loves to travel, read, play tennis, and keep rooftop honeybees. Hali was recently profiled in Forbes 50 Over 50: Impact.
---
Tracy Malloy-Curtis, JD | Vice President, Legacy Giving, Mal Warwick Donordigital
Tracy Malloy-Curtis, JD is Vice President, Legacy Giving at Mal Warwick Donordigital. Tracy has 20+ years of experience in fundraising for advocacy and social justice organizations, with a primary focus on planned giving and leadership gifts. A former litigator, she has a JD cum laude from Case Western Reserve School of Law, where she was the publisher of the Law Review. In addition to consulting for numerous national and regional organizations, Tracy is a sought-after speaker nationally, known for bringing new, data-driven approaches to the gift planning field. She recently joined the board of Lancaster Farm Sanctuary.
---
Lindy Nash, JD, Esq. | Supervising Attorney, Chisholm Chisholm & Kilpatrick
Linden Nash is the Supervising Attorney in the Bequest Management practice at Chisholm Chisholm & Kilpatrick. Her practice focuses on representing national charities and philanthropic organizations in fulfilling the wishes of their charitable donors while maximizing gifts and minimizing any administrative burden. She oversees the day-to-day operations of the practice and ensures that each client's matured bequests are handled efficiently while fulfilling the duty of good stewardship. Lindy is passionate about charity work and currently serves as the President of the Board of Trustees at the Providence Animal Rescue League ("PARL").
---
Tim Rogers | Planned Giving Officer, Oxfam America
Tim Rogers is a planned giving officer at Oxfam America where he leads a legacies program that includes gifts from wills, trusts and IRAs as well as charitable gift annuities and other life-income vehicles. He manages multi-channel marketing and personal engagement with prospective planned givers as well as the 1,000+ members of Oxfam's Legacy Circle. He previously led planned giving efforts at Save the Children and has worked in fundraising positions at a variety of other not-for-profits, including the Ad Council.  He is a graduate of the University of North Texas, where he earned a BFA in advertising design. A native of Montreal, he lives with his family in Weston, Connecticut.  
---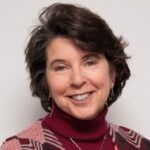 Rebecca Rothey, CFRE, CAP®, AEP® | Senior Advisor, Greater Washington Community Foundation
Rebecca Rothey has held multiple leadership roles in charitable gift planning positions, most recently serving from 2016-2022 as Chief Philanthropy Officer at the Greater Washington Community Foundation. She was a director of gift planning at The Johns Hopkins University and Medicine and director of planned and principal gifts at Catholic Charities of Baltimore. Her community foundation experience also includes three years as director of major and planned giving at the Baltimore Community Foundation.
Rebecca is a member of the editorial advisory board of Planned Giving Today. She has served on the board of the Baltimore Estate Planning Council and is a past president of the Chesapeake Planned Giving Council. Her undergraduate degree in philosophy from the Notre Dame of Maryland University, from which she graduated summa cum laude, serves as the foundation for her work. 
---
Dien Yuen, JD/LLM, CAP®, AEP® | Executive Director/Center for Philanthropy and Social Impact and Blunt-Nickel Professor of Philanthropy, The American College of Financial Services
Dien Yuen, JD/LLM, CAP®, AEP® is Executive Director Center for Philanthropy and Social Impact at The American College of Financial Services and Blunt-Nickel Professor in Philanthropy. In this role, she works with practitioners in the field, creating a shared space to develop multi-disciplinary ideas to advance social change. Dien's research and teaching focus on access and growth of philanthropic advising in the U.S. and Asia. Before joining the College, she worked in several wealth management firms and held executive positions in regional and global development organizations.